City of West Covina Public Employee Cost, Big League Dreams (BLD) and  



the Redevelopment  Agency debt means bankrupt  


Things We Can Do With Former Dumps

 

Woodside Village/Shadow Oak/South San Jose Hills Community is a large and very dense residential 


development built in the 1970's. I remember living in the Valley of the Municipal Landfills 


(Former Municipal Dumps: BKK, Industry, Puente Hills and Spadra Landfill(s)) and now that 


situation can be more beautiful and healthier than ever if we fight and work for what was 



promised.


 

In one way or another we are hunting for treasure in our old landfill sites. Some of the original


home buyers remember how we were promised a Regional Park at BKK, another evokes a five star 


hotel and others see recyclables and energy.

 

If building a Public Park on a Former Municipal Dump is difficult what is the possibility for a


five star hotel being built on a former Combination Municipal Landfill and Toxic Substance Waste 

Site? I know we can do better for the value of our property, the health of our environment and 



wellness and for future generations by creating and maintaining Open Green Spaces where poisonous



substances are now contained! FS

 

 Agency can't afford to build Puente Hills Landfill park 



so county sues  

 

https://www.sgvtribune.com/2020/03/02/agency-cant-afford-to-build-puente-hills-landfill-park-so-county-sues/

 

https://www.sgvtribune.com/2019/02/01/turning-brownfields-into-parks-bkk-puente-hills-and-the-duck-farm-in-bassett-may-be-prime-possibilities/

 

http://theconversation.com/why-were-hunting-for-treasure-in-old-landfill-sites-102304

 

https://www.ups.com/us/en/services/knowledge-center/article.page?kid=art169b8e505d6

 

http://www.sac.media/news/2018/11/21/west-covina-residents-speak-against-singpolis-hotel-on-a-dump/

 

https://www.sgvtribune.com/2019/05/01/west-covina-picks-singpoli-to-build-on-former-bkk-landfill/

 

http://www.singpoli.com/singpoli-enters-escrow-to-develop-former-bkk-site/

 

https://www.latimes.com/archives/la-xpm-1990-07-08-ga-51-story.html

 

https://www.livablewestcovina.org/singpoli-proposed-development



Following Our Tax dollars

It is easier to follow what your Government Boards are doing with your tax dollars when you have your local newspapers and their reporters to assist. This helps you avoid the numerous visits to meetings for City Council, various City Committees and Commissions, School Board(s) (7 serve the City of West Covina plus the L.A. County Office of Education), Your Water District (8 serve the City of West Covina) and Woodside Village/Shadow Oak/South San Jose Hills Community is in L.A. County Supervisorial District #1, Supervisor Hilda L. Solis. It should be noted that in the South San Jose Hills unincorporated areas and other such jurisdictions in Supervisor District #1 Supervisor Solis acts as the Mayor and she can assist the residents of West Covina with matters such as BKK, Joint Power matters of regional transportation, roads, libraries, schools, parks, Public Safety, Neighborhood Watch and etcetera. The following Legal Notice is an example of newspaper sourcing! FS




NOTICE OF PUBLIC HEARING Concerning priorities for the basis of the City of West Covina's FY 2020-2024 Consolidated Plan for the City's Community Development Block Grant (CDBG) program. YOU ARE INVITED All interested citizens and agencies are invited to attend a public hearing on Tuesday, March 17, 2020 at 7:00 pm, in the City Council Chambers at 1444 West Garvey Avenue South in West Covina to comment on proposed priorities for the development of the FY 2020-2024 Consolidated Plan, which will guide the City's use of CDBG funds for the next five years. This public hearing is scheduled pursuant the to City's adopted Citizen Participation Plan, a requirement of U.S. Department of Housing and Urban Development (HUD), which requires two public hearings to be held during the development of the Consolidated Plan for the purpose of receiving public comment and input. Public comment can also come through response to an anonymous online survey at accessible at the following address: https://www.westcovina.org/about-the-city/city-news. The Strategic Plan section of the Consolidated Plan must address four categories of priority needs and is used to guide the use of CDBG funds over the five-year period. The three general areas addressed by the Strategic Plan are: (1) Affordable Housing; (2) Homelessness; and (3) Non-Housing Community Development. All interested citizens are invited to attend a public hearing on: When: Tuesday, March 17, 2020 at 7:00pm Where: City Council Chambers 1444 West Garvey Avenue South in West Covina Subject: Priorities for the Development of a Draft FY 2020-2024 CDBG Consolidated Plan Comments may be addressed to Kelly McDonald, Public Services Manager, City of West Covina, 1444 West Garvey Avenue, Room 316, West Covina, CA 91790 Pub: March 6, 2020 San Gabriel Valley Tribune 
Ad#11370603
Post Date: 03/06 12:00 AM                                                                                          Refcode: #0011370603-01

 http://marketplace.socaladsonline.com/scng/advert/-NOTICE-OF-PUBLIC-HEARING---Concerning-priorities-for-Notices_55983



 

 

Debt-ridden West Covina issuing bonds for 



complex 

 

By THE SUN | thesun@dfmdev.com |

 

July 4, 2006 at 12:00 am

 

WEST COVINA – While the city boasts a balanced budget and one of the healthiest reserves in the



San Gabriel Valley, it also is $683 million in debt.

 

In a report for the 2004-05 fiscal year to the state controller's office, West Covina reported its 



redevelopment agency had a total indebtedness of $683 million, including $111 million in bonds. 



The city has reserves of about $50 million.

 

Now the City Council, acting as the Community Development Commission, has voted 4-1 to issue 



more bonds to pay for Big League Dreams, a sports complex that will include six Major League 



Baseball replica ball-fields, two restaurants and a tented multi-purpose athletic field.

 

Over the 30-year life of the bonds, they will cost $57.1 million, according to city records. 

 

"Much of this debt is related to future obligations due to pass-throughs to various taxing agencies,"



West Covina Finance Director Thomas Bachman said.

 

Such agencies include school districts, the county and flood control districts. These agencies get a 



percentage of the city's future tax increments, or increases in property tax revenues, Bachman said.



About $333 million of the debt is related to those obligations, Bachman said.

 

Officials at the state controller's office said West Covina's "real debt" is closer to $133 million, which



does not include the future tax increments.

 

"It hurts because this debt diverts money away from public services," said Chris Norby, an Orange 



County supervisor and director of Municipal Officials for Redevelopment Reform. "Tax dollars 



should be going all over the city."

 

Cities of roughly the same size as West Covina – such as El Monte, Pasadena and Norwalk – have



not acquired as much debt.

 

El Monte, for instance, has a real debt of about $11 million; Pasadena about $9.5 million; and 



Norwalk about $73 million, according to the state controller's office.

 

However, Pomona, with a population of about 150,000, has a debt of $205 million.

 

Councilman Mike Touhey said West Covina's debt seems high because the city is accounting for 



all interest and principle amounts.

 

When a resident buys a $500,000 home, he said, that resident doesn't say he or she accrued a 



$1.5 million debt, even though that's how much interest could be paid over the life of a 30-year 



mortgage.

 

"None of the 115,000 residents in West Covina count all the interest payments they pay on their 



home," Touhey said. "They tell you the principal amount."

 

Former West Covina mayor Dr. Forest Tennant said no matter where the debt came from, it has 



to be paid eventually.

 

"When you have the state controller listing all the cities and shows you have an indebtedness, 



sooner or later somebody pays the money back," Tennant said. The figures should be more 



transparent with a line-by-line assessment of where the debt is coming from, he said.

 

The city should make the figures plain enough for the average citizen to understand, he said.

 

Ten years ago, the state controller's office figures showed West Covina in $803 million in debt, 



making it the sixth most-indebted city in the state, ahead of San Francisco and Anaheim.

 

Along with the $333 million of pass-through obligations, Bachman said, West Covina's other 



sources of debt include:

 

$111 million in bonds;

 

$127 million for low-to-moderate income housing;

 

$73 million for bonds floated to improve Westfield West Covina;

 

$39 million in sales tax reimbursements approved last year.

 

Touhey argued the indebtedness doesn't factor in assets, and projects such as the Civic Center are



 listed on the books as "liabilities" even though they serve a public purpose.

 

 

(626) 962-8811, Ext. 2472

 

https://www.sbsun.com/2006/07/04/debt-ridden-west-covina-issuing-bonds-for-complex/



The City of West Covina is owned by Athens Services (Rubbish Hauling Company has 25 year contract with evergreen clause!)

and politically controlled by the West Covina Police and Fire Labor Unions!
https://www.sgvtribune.com/2019/04/24/west-covina-fires-its-police-fire-chiefs/


Letter to the Editor


What Public Safety Unions did to Toma in 2018 and Sykes (in 2015 and 2018) was defamation of two career law 

enforcement Officers who were elected and serving Councilmembers in the City of West Covina!

The voting residents have not been involved; therefore, they are not able to discern misleading information and vote

against themselves by believing that the Public Safety (Fire and Police) Unions are recommending political decisions

that are in the best interest for the City of West Covina. This is not correct and that is why the City is virtually bankrupt
and getting deeper into debt. The public safety PAC(s) are only focused on taking tax dollars that pay for the salaries,
pensions and other post-employment benefits, not the quality of City services paid for by the general fund! FS 


Letters to the editor

Defeated by the union
Sunday, November 12, 2018


As I write this letter I believe many will see me as a sore loser, a supporter of a
candidate who didn't win in our city of West Covina. 

That is not why I am writing. I am writing in disgust of our local firefighters
union (3226), which entered into our city politics spending big money like any other
super PAC to defeat an incumbent in our city who we should be so fortunate to have.
In the past, they had a City Council that proudly displayed their campaign sign
saying "we support our fire & police." Indeed, they did by obtaining royal
concessions such as higher wages, eligibility to retire at age 50 with 3 percent of
final pay of their salary multiplied by the number of years of service (which
represents 90 percent of their highest salary for life) and medical insurance for
life plus spouse. This is contrast to the vast majority of private-sector workers
who cannot receive Social Security payments before they are at least 62.

Twenty years later the current council has to deal with a general fund with 82
percent going to fire and police, which includes their pensions.

The local union is not willing to make any concessions to resolve labor disputes.
The local union wants the voters to pass a local tax to subsidize continued salary
increases, maintain their pension perks and higher more fire fighters at the expense
of the community without modifications to their compensation and pension.

Adding three fire trucks and seven policemen in the last five years was not enough.
All while cutting many services and laying off city workers to keep solvent is not a
concern for the union, as most of them don't live in our city.

The negative flyers blaming Councilman James Toma for everything from homelessness,
violent crimes - only excluding the drought - worked for the residents who fall for
fear tactics. The new council will have to deal with a city near bankruptcy, and the
promises made to this union in exchange for their support. Driving the city into
functional insolvency will only hurt the community.

- Angie Gillingham, West Covina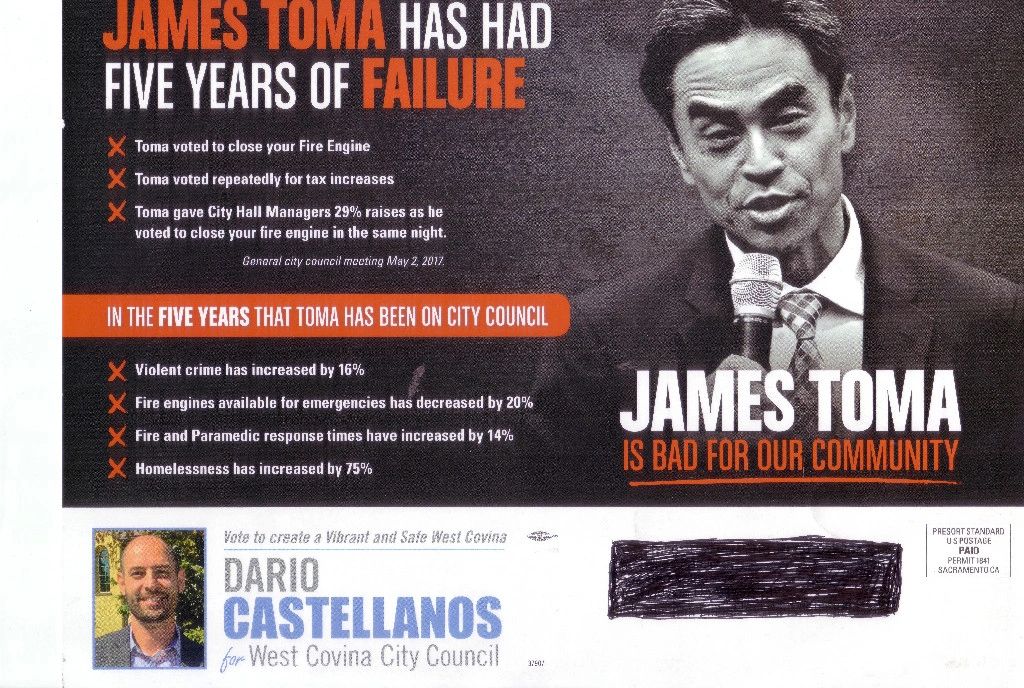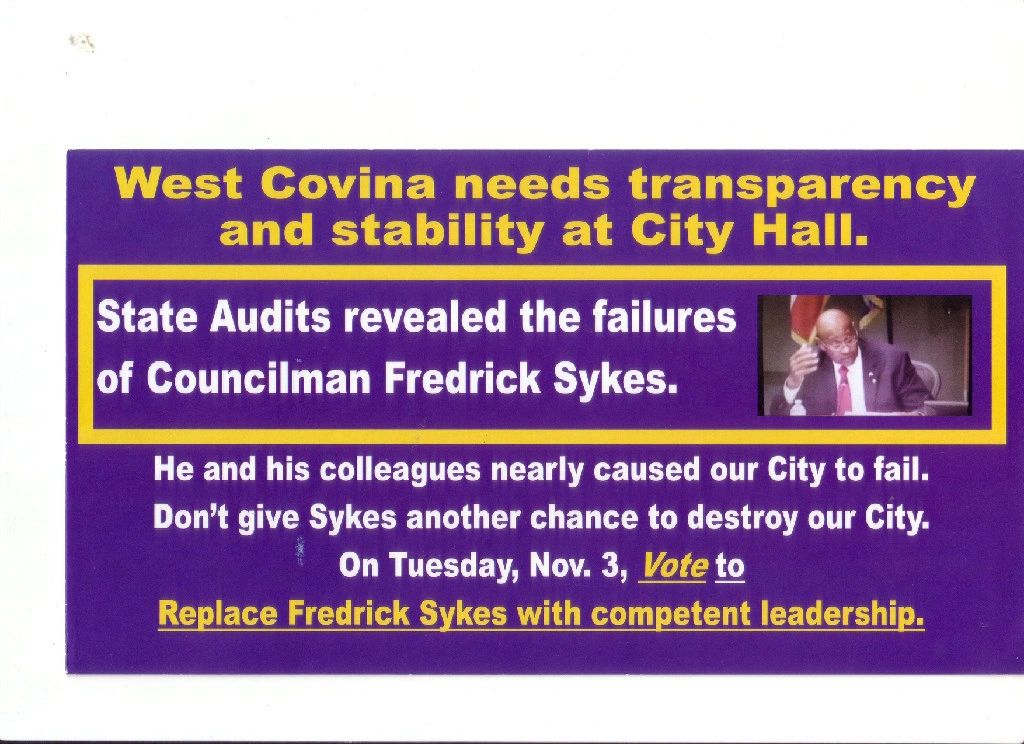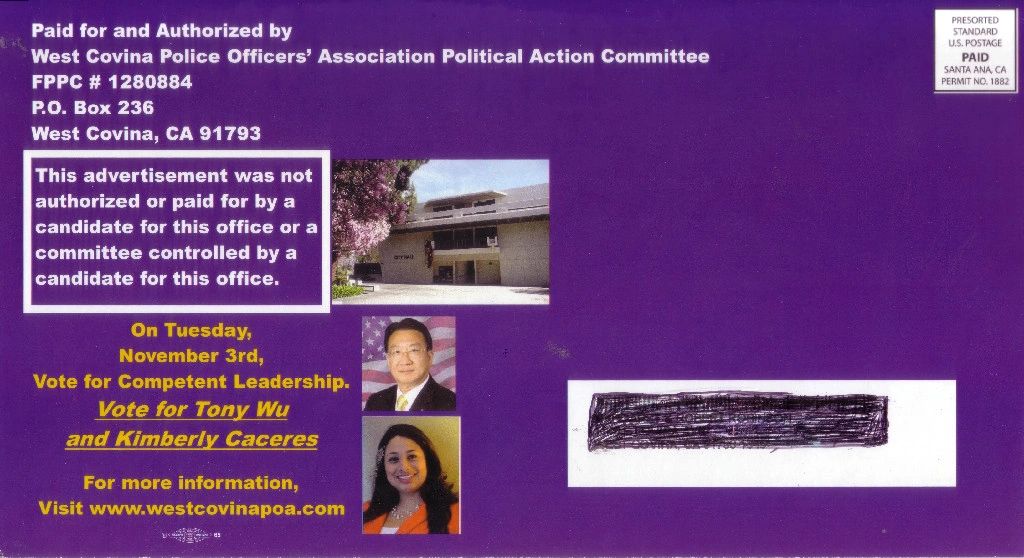 City of West Covina (City of the Future?)

Sykes in the City and what was accomplished:
Led the Replacement of underperforming West Covina City Councilmembers, City Attorney and City Manager!

Why is the City of West Covina virtually bankrupt? The unfunded debt and employee pension obligations are trending uncontrollably upward. When I was on the City Council the Public Safety contracts included, for the first time, that the Public Safety Members were required to contribute 8% of their salary towards their retirement when they were giving zero before with 3% at 50 retirement plan. The City must have a salary freeze, a sales tax and research to find how to control the current accelerating pension cost and or a new Public Employee and Public Safety Retirement system.

Cost benefit analyses before we spend! No more debt making ideas such as $57 Million, without Tax Payer approval, for six Baseball Fields that do not pay for themselves; the residents are paying that bill!

Disaster Event Fund Policy (Establish Savings & Emergency Fund Policy). See State Controller's Office Audit which was asked for by the Shadow Oak Community in 2007 and not achieved until July 2015.

Citywide Business Outreach Program (to help businesses stay, thrive and bring new businesses to West Covina).

Worked to preserve and protect the Civic Center for the Tax Payers. - Implemented Voter Protected Park and Green Space Law.

Citywide Park Improvements.

Implementation of yearly WCCC Strategic Planning!

City Contracts done with search for what is best for residents/rate payers.

All City contracts are now posted on the City Website for the public to examine.

Started the General Plan Update (stopped 30 years of non-compliance with a State Law).

Working to Control tax dollars lost to Litigation Cost!

Introduced a new Public Records Request Policy.

Implemented a Formal West Covina Resident Centenarian Recognition Program (as recommended by Ms. Norma Ingram - resident of West Covina).

Got Upper San Gabriel Valley Municipal Water District to agree to bring recycled water to the Shadow Oak Community's Green Infrastructure along the Azusa Avenue corridor instead of just the Big League Dreams Sports Park and the South Hills Country Club.
Fought to keep Bus Route 178 on Shadow Oak Dr when Foothill Transit had planned to terminate this route.
Fought to keep the City grandfathered law prohibiting the sale of alcohol at gas stations in the City of West Covina.
Fought for the return of cable and streaming of council meetings and events, on the internet and cable TV.

Fought to Keep cell towers out of our parks and future towers should have subterranean cabinets.

Fought against the legalization of marijuana use.

Fought against smoking any substances in parks.

Commissioned the development of the City's Mobil Application to facilitate request for City services and information pertaining to the City of West Covina.

A pledge to always protect and serve everyone equally in the City of West Covina.

Our City needs to create laws and policy that better protect the community from vagrants, homelessness and government officials with a history of criminal and other wrong doing.
The money for our City to operate is mostly accrued from the property taxes collected from the residents and the businesses in our City and the residents continue to pay more and get less.
The underrepresented residents in the City West Covina will remain that way until they are more involved, become aware of who/what controls City Hall and read the fine print on all petitions political ads, and mailers before you sign and or vote!


https://www.sgvtribune.com/2019/07/03/west-covina-makes-acting-police-chief-its-permanent-police-chief/